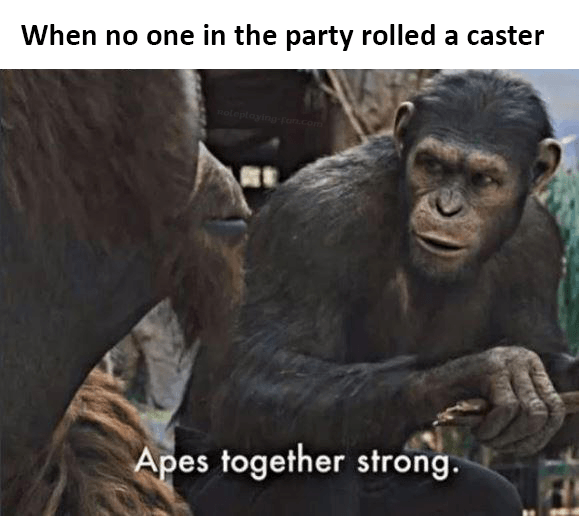 But jokes aside, happens to the best.
And the reasons could be many. If wasn't planned, it could mean the lack of communication, stubborn players, or maybe just their desire for a change.
But no caster in the party means also no cleric, therefore, there's gonna be no good healer... Ouch.
How to cope with such a group? Well, if you play Dungeons & Dragons, Pathfinder, Warhammer or any other similar system, you should carefully tailor your campaign to the classes that you'll have to deal with. Whether you like to improvise or plan ahead, it's just mandatory in those circumstances.
If you prefer to improvise and aren't really experienced, you'll probably need to be very careful, or you may feel the urge to fudge rolls once in a while, until you learn how to work with a no-caster party.
But no worries, once you discover and practice how you should do it for your partical set of players, such parties could be a lot of fun.
There are also tabletop RPG game systems where you can check how playing without classical magic spells could work. One of those would be The One Ring or it's 5e equivalent, Adventures in Middle-Earth.
Though for a semi-usual RPG experience, the latter you could adapt to use the standard spell based D&D magic. Just be sure do it a Tolkienesque, epic, description-based way. There's a chapter about it.